Clue #1: The Flo Riddle
Flo Rida kicked off the first clue by rapping a "Flo Riddle" which led to the main quad on each college's campus. I still can't believe he did this.
Clue #2: Social influencers gif
We worked with five Vine and Instagram influencers to announce the second clue. They posted their videos and photos through their channels and we combined their submissions into an animated gif pushed through the app, leading Flo Findas to their college's basketball A-R-E-N-A.
Clue #3: The Old Emoji and the Sea
The third clue was the story of Old Man and the Sea, told through GroupMe's emoji catalogue and leading to the main undergraduate library on each campus.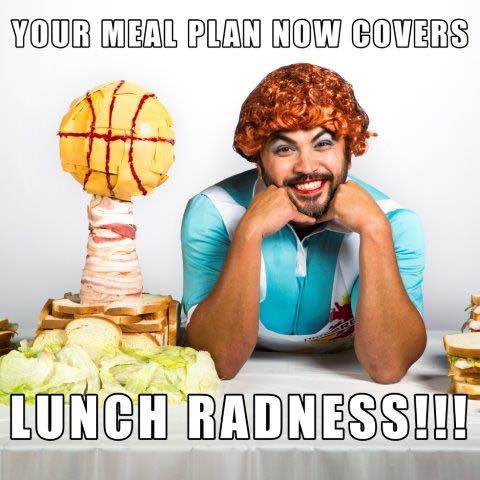 Clue #4: The Lunch Lady meme
The fourth clue was a meme of a crossdressing lunch lady posing next to a trophy made of raw bacon, Kraft singles, and lettuce, leading to the campus cafeteria.
Clue #5: The Beer Stein Basketball Brawl
The fifth clue led to a well-known bar near campuses. We built a tabletop basketball court, printed beer stein-sized jerseys, and scrapped together a video of a basketball game between two heated rivals.
Results
At the end of the campaign, we had 1500 groups join the campaign, with an estimated 7500 people downloading GroupMe and participating in the hunt. And it looks like they had some fun.
The Concert
Flo Rida finished up the campaign by getting an entire crowd of fans to chant the client's name. A pretty satisfying conclusion.
Credits:
Role: Art Director
Copywriter: Demian Kendall
CD: Michael Gurman
Agency: Pereira & O'Dell